Is your business website failing to perform well despite of all your efforts then probably it is high time to look into the design of your existing website. Yes! One of the reasons that your business website is failing to reach out to your customers could also be your website design.
If you have also started to think whether your website design is the real problem then we can offer you a brief look into whether or not it is the case. We suggest that you do not rush to a decision and consider the below mentioned points before deciding whether or not to redesign your current website.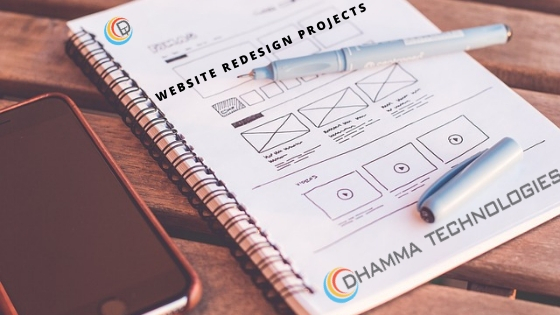 1. Analyze Your Current Website Design
Before you go ahead with your decision to redesign your current website, it is time to analyze your current website to figure out what exactly is lacking in your website. Is it the unattractive design that is failing to catch the attention of your customers or is it the difficulty to navigate that is serving as an impediment. Perhaps the real problem lies within the poor coding of your website or perhaps it is difficult to access the products/services on your website.                
Probably it is time to identify what your website is truly lacking that has made it easy for the competitor website to capture the market share. Have you looked into the fact that while your competitor is constantly updating the website content and adding to it, you are not paying due attention to it. Whatever the reason it is time to identify it so you may not rush to the redesigning process or even worse repeat the same mistake in your new website design.
2. Determine Your Goals
Before you embark on the redesigning process it is time to determine your business goals. Remember that the nature of your business website along with your business goals should have the primary role to play in the determination of your website design. You need to have clear plan and clear objectives before you move ahead with the new design. Seek answer to questions like where you would want to see your business in the next few years, are you planning to increase your customer base and thus expecting more traffic to your website with the passage of time.
Similarly, are you planning to add more products/services to your existing products/services line and/or what are the features that you think are rendering the competitor's website a success? Seek answers to all these questions and it will help you identify just the right web design for your future website. Know clearly the designs that you would like to add in your perspective web design and the features that you wouldn't like to retain in the new design.
3. Consider Your Industry, Products/Services
Before you choose the next website design for your website design give due consideration to the industry you belong to along with giving consideration to your products/services so that you may arrive at a design that offers high conversion rate and maximum return on your investment.
4. Consult The Professionals of The Field
After you have looked into all this it is time to consult professional services to help you decide and select just the right web design for you. As professionals of the field we widely distribute businesses into two main categories depending whether their website is merely meant to provide information to the customers or is it actually generating direct revenue for the business. Let's have a look

Information Providers
Even businesses that do not provide online products/services are choosing to opt for website that can allow them to reach out to their customers and quench their thirst for information. Though these don't engage in online business yet these have realized the power of online presence and use the online platform to boost awareness about their products/services.
Through this information these businesses successfully establish themselves as expert on the subject and raise curiosity in the customers about their products/services. Since these are pure information based these use all possible means available to provide information and communicate their message to their customers including content, images, audio/video, guides and manuals. Similarly, these may also encourage their customers to ask for further information or leave their messages.
Online Businesses
These are the businesses that use the online platform to involve in sales and therefore, generate revenue through their websites. Since the customers buy from their website these websites provide for transactions and have transactional tools such as user registration accounts, ecommerce transactions and at times the modern CRM tools.
At DhammaTech, we suggest our customers to gradually progress from being an information provider to online business as this helps them achieve customer trust and to be perceived as authority by their customers before they actually invest in the online business platform. DhammaTech encourages its customers and provide them with expertise and guidance to redesign these into successful online businesses. Therefore, all those businesses that are looking for website redesigning can greatly benefit from our strategic approach, our expertise and our experience in the website redesigning field.